Our involvement in organics stems from an interest in the environment, a joy of adventure, a desire for niche markets and concern for the sustainability of our farming systems. This has led us to make a range of changes to our home farm 'Harts Creek Farm' from my parents generation. For example, we have planted extensive shelter belts of both native and productive exotic plants and trees to increase biodiversity and provide shelter and shade for stock. The clear, spring fed, Harts Creek and Birdlings Brook streams have been fenced to prevent stock access and a riparian strips of native plants and production trees have been planted. Some of the more established areas now have walkways so that visitors can get an idea of what the area used to be like before intensive European farming came to Canterbury. We have also created a series of ponds for wildlife enhancement, particularly bird life.
From a cropping perspective we are focused on improving the efficiency and sustainability of the production system. We are currently moving from a three meter to six meters bout width while adopting machinery that allows ever more precise operations such as computer vision guidance for hoes and other implements and RTK-GPS for highly accurate repeatable tractor placement. Considerable emphasis is placed on good rotation design and effective pre-planting cultivations, including the use of custom designed and built machinery to minimise post planting labour requirements especially for weeding.
Our marketing philosophy is to identify key emerging crops and market niches and to form long term alliances with processors and marketers who can compliment our production skills to continually supply a quality product to the customer.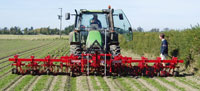 Six meter front mount interrow hoe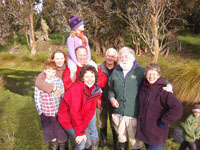 David Bellamy and three generations of Chamberlains at Harts Creek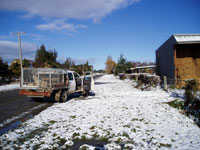 Snow during lambing!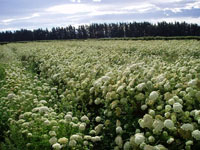 F1 carrot seed crop in full flower